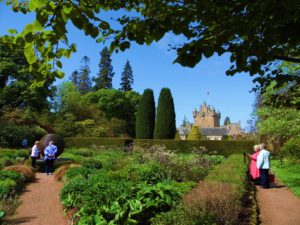 Members enjoyed a wonderful day out at Cawdor Castle Gardens. We arrived about 11 o'clock and were met by the newly retired head gardener, Derek, who was accompanied by his successor, Michael.
The tour started in the walled garden where Derek explained the restoration that has taken place and the thinking behind the new planting, much of which had been his responsibility under the guidance of Lady Cawdor. Derek answered all our questions and was a font of horticultural knowledge, giving not only the common names of all the plants but also the Latin names and spellings.
We were allowed to go at our own speed and dwell on the interesting features, which included sculptures and water features as well as plants. We progressed to the upper garden and more delights with some of the old original trees which were most impressive. Cameras were constantly clicking, with some examples added to the web site.
The restaurant reserved an area of the café where we all had a lovely lunch and an opportunity to talk over the delights of the morning. After this, some ladies visited the house while others retraced their steps from the morning or ventured along the woodland walks as the weather remained fine and warm.